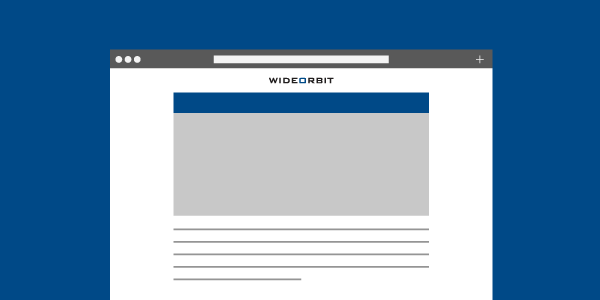 August 17, 2015
WEEI Sports Radio scores regional digital radio success with WO Streaming
Two years after receiving the 2013 RAIN Award for Best Streaming Broadcast Station, one of the digital audio industry's top honors, Boston's Sports Radio WEEI-FM 97.3 continues to innovate with the help of WideOrbit's WO Streaming. As part of the Entercom family and the flagship station of the Boston Red Sox, WEEI-FM is the #1 rated sports talk station in America in terms of the percentage of regional listening audience that tunes in. Its sister station WEEI 850 AM offers the full national ESPN Radio lineup of shows to Beantown's sports-hungry population.
The success of WEEI's streams is based on great content, strong promotion, and a flexible technology platform that allows it to scale, experiment and deliver unique features to listeners. In July 2014, the station replaced a legacy Flash-based system with WO Streaming. With our solution in place, the station could assure an optimized user experience regardless of the device used to access its content. WEEI started to use a call to action to visit 'WEEI.com/listen' in its on-air promotions and social media marketing.
In April 2015, WEEI decided to extend and improve the streaming experience of its WEEI Sports Radio Network affiliates. Its new streaming feeds for its Boston, Providence, Springfield and Worcester affiliates tailor the user's experience to their preferred market. Listeners using the WEEI Live mobile app receive a prompt to the stream of the nearest affiliate based on their geolocation. When listeners in Providence choose the local stream, they receive ad breaks and promos tailored for their town.
WEEI also improved its localization experience by moving to a straight simulcast of its on-air broadcast and streams for in-market listeners. Listeners located within reach of the WEEI Network receive ads geo-targeted to their market, while out-of-market listeners get their own unique stream that is injected with national ads and station promotions.
Moving to WO Streaming also adds value to the user experience by integrating WEEI's journalism in the player. Listeners receive prompts during live streams to review the station's newest columns, blogs, and on demand content. The ability to feature additional video and audio content has helped to grow the station's overall digital traffic by making WEEI more 'sticky.'
The results of WEEI's commitment to delivering a great streaming experience speak for themselves. In the second quarter of 2015, WEEI's digital streams averaged a monthly cume of 210,000 unique listeners (36% more than 2014), 1.1 million hours of listening per month, and an average AQH (M-F 6A- 7P) of 3,300. During Tom Brady's Deflategate press conference in January, WEEI had an astonishing 20,000 uniques listening live on its digital streams.
WEEI and WEEI Sports Radio Networks also use WO Automation for Radio to ingest, manage, and broadcast  content. Its on-the-air and streamed programming originates in WO Automation for Radio.
We're proud that WO Streaming helps WEEI listeners across the world enjoy Boston's best sports talk on the device of their choice – anytime, anywhere.
You can listen to WEEI from this link, stream through its app, or check out its on demand content here.
For press inquiries, contact
media@wideorbit.com
.