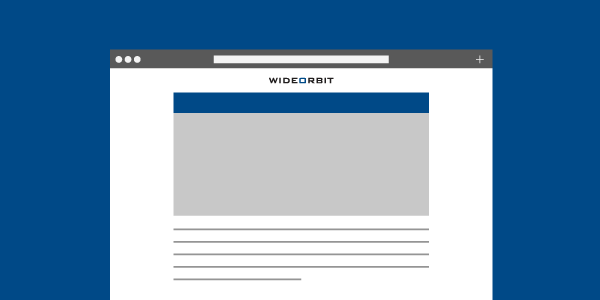 July 7, 2015
Customer Spotlight: Entravision Runs Traffic at 100+ Stations with WideOrbit
Now that the WideOrbit User Conference has passed, we thought it would be a great time to feature a client who oversees one of our biggest installations. Mildred Sibley is Vice President of Station Traffic Operations at Entravision Communications Corporation, which owns and operates one of the largest groups of Spanish-language radio and television stations in the United States. Entravision owns 58 television stations and 48 radio stations (37 FM and 11 AM), 46 of which are located in the top 50 U.S. Hispanic markets. Mildred joined Entravision in 2014, and has more than 22 years of experience in Traffic, Operations, Sales, Programming, Research and Accounting. Mildred spoke with us about Entravision's traffic system and how it supports her company's mission.
How does Entravision work with WideOrbit?
When I arrived here, we were already in the process of switching over to WideOrbit to get our technology stack more efficient and current. Adopting traffic technology that's easy to integrate with other top-tier systems was a huge factor in the decision to go with WideOrbit. In the last year we've rolled out WO Traffic in all of our markets.
We noticed right away that WO Traffic is really user friendly. The way it handles formats and clocks is straight-forward and makes order entry a breeze.  It has been incredibly helpful for trafficking and maneuvering spots and maximizing the value of our inventory.
How does WO Traffic help Entravision manage its business?
For reporting purposes, it's easy to create and generate reports. There are so many ways to get the information you need. We run reports off a huge number of factors, including inventory codes, advertiser, and revenue codes.
Entravision serves 46 of the top 50 U.S. Hispanic markets, so last year it was really important to track our World Cup sales performance. WO Traffic made this really easy to do because we could assign a special revenue code to every transaction related to the event.
WO Traffic is also really helpful for my personal work. I love that it's PC-based so I can easily go into the system and generate reports without having to rely on IT. That's really useful when I work with auditors. I can customize reports, keep some reports permanently active, and combine them in different ways. It's also great for user security management. I can see right way which system users are disabled, who has superuser access, and so on.
How about out in the field? Does the sales team like WO Traffic?
WO Traffic is a great tool for our salespeople. We don't have to go into the system often to generate reports. Daily skim and revenue reports can be emailed automatically every morning to every member of our team. Multiple users can receive a single shared report, so we know that everyone's working from the same page.
WO Traffic matches how our salespeople work and makes them more independent. They want to be out in the field with clients instead of spending a lot of time at a desk. Every member of the team can access the system outside of the workplace and pull reports whenever they need them. They have direct access to spot managers and don't have to rely on traffic managers to see their logs and order activity. Order approval used to be their biggest challenge, and now they can get it while they're having lunch with their clients.
What's next for Entravision and WideOrbit?
We love working with WideOrbit's sales and operations team.  They bring a Can-Do spirit to the environment, and that makes everyone easier to work with. Right now we're looking forward to completing our salesforce.com integration with WO Media Sales.
What's your advice for someone hoping to make a career in a media business?
The Television and Radio industries offer rewarding careers. If you can stay focused, work hard and maintain a positive professional attitude in a fast-paced work environment, you will enjoy how fun it is to be part of this industry.
[divider line_type="Full Width Line" custom_height=""]
Check out this Entravision video with some very impressive stats about the audience for the 2014 World Cup:
For press inquiries, contact
media@wideorbit.com
.