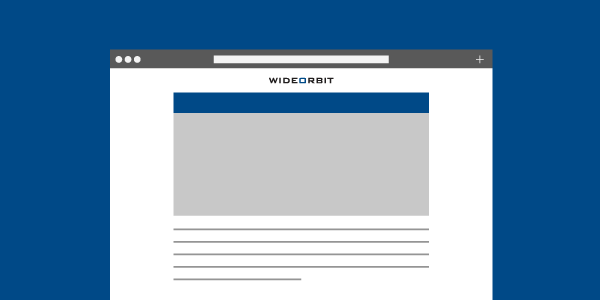 September 15, 2015
We Have Liftoff: WO Programmatic Radio Launches Today
Today is a huge day for the radio industry and our radio customers. We've launched WO Programmatic Radio!
Taking a cue from the success of WO Programmatic TV, our latest programmatic solution gives our radio clients a new source of revenue, while leaving them in full control of their inventory and data, and requires almost no changes to the way they do business today.
WO Programmatic Radio is the radio industry's first programmatic advertising solution that integrates directly into existing traffic systems – no new hardware or software connections needed. Within a few hours, stations and networks on WO Traffic can be up, running and availing their inventory to a whole new world of ad buyers.
Why Programmatic Radio Now?
Programmatic advertising solves one of the biggest obstacles local radio broadcasters face in scoring attention from advertisers who may be outside easy reach of their direct sales teams – ads are difficult to buy at meaningful scale.
Stations participating in WO Programmatic Radio will be better able to compete for ad dollars that might otherwise shift to media that's easier to buy, like digital. By simplifying the media planning process for assessing and purchasing valuable hidden audiences, broadcast radio will become a viable option for all kinds of buyers.
Best of all, WO Programmatic Radio makes it nearly effortless to open a programmatic sales channel – right now. Tight integration with our WO Traffic platform means broadcasters can accept programmatic ads and still follow existing workflows. Inventory never needs to be "carved out," which means there's no worry about making forward commitments at prices you don't want. Stations will see programmatic offers alongside existing business right in their traffic system and decide then and there if they want to accept them.
Tuning In To Revenue From Programmatic Radio
To get started on WO Programmatic Radio, call or email your WideOrbit account manager or sales representative. If you're planning to attend the 2015 Radio Show, schedule a demo or drop by our booth to see the latest.
We are grateful to our friends at Entravision, Entercom and Radio One for their support at launch. Stations in those networks will be among the first to take advantage of the burgeoning new market for programmatic advertising. They will receive new consideration from advertisers that want to increase their effectiveness and better target audiences by bringing their proprietary data to radio buys.