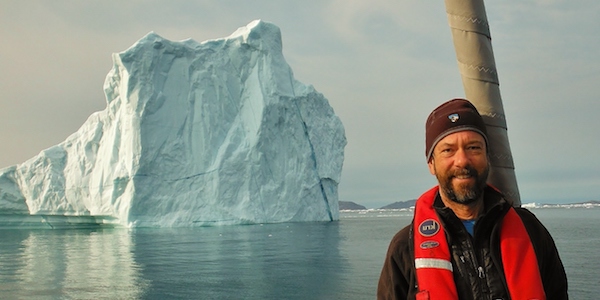 August 8, 2018
WideOrbit Connect: Get to Know Guest Keynote Speaker Captain Randall Reeves
San Francisco-based sailor Captain Randall Reeves shares tales from his 30,000 mile solo expedition and what you can learn from his experiences.
WideOrbit Connect 2018 will feature more than 20 presentations from Television and Radio experts, exciting evening events, and ample opportunities to meet new industry colleagues. We are especially looking forward to Tuesday's lunchtime keynote from Captain Randall Reeves, who will discuss his experience sailing around the world on his own.
Randall is a Bay Area native and lifelong sailor. As an undergraduate, he had the opportunity to interview renowned solo sailor Bernard Moitessier for his college radio station. This turned out be a transformative experience. After completing his degree, Randall sailed and crewed on several deep sea vessels. In the last decade, he got hooked on solo expeditions, first cutting his teeth on a 12,000-mile loop of the Pacific followed by an intense two-month run through the Arctic.
On October 27, 2017, Randall embarked on a first-of-its-kind 30,000 mile voyage—a solo attempt to circumnavigate the American and Antarctic continents. Previous adventurers had attempted only portions of this journey, and even fewer of them made the trip alone. Two knockdowns (one near Cape Horn and another in the Indian Ocean) damaged Randall's boat so badly that he was forced to pull into Hobart, Tasmania. The diversion unfortunately marked the end of this attempt.
Never deterred, Randall is embarking on the trip yet again in September. He aims to pass through every ocean, approach both poles, and round Cape Horn twice. If this record-breaking attempt is successful, we'll wave him in under the Golden Gate Bridge sometime in Summer 2019.
We are lucky to have Randall join us at WideOrbit Connect 2018 with his inspirational story. His passion for sharing unique experiences, desire to connect with others all over the world, and enthusiasm for technology make him an excellent fit amongst our other stellar speakers. Check out the full conference agenda, and be sure to not miss this very special session on Tuesday, August 21.
Still thinking about joining us for WideOrbit Connect 2018? Registration is still open. Visit the official conference site to learn more and reserve your space today.