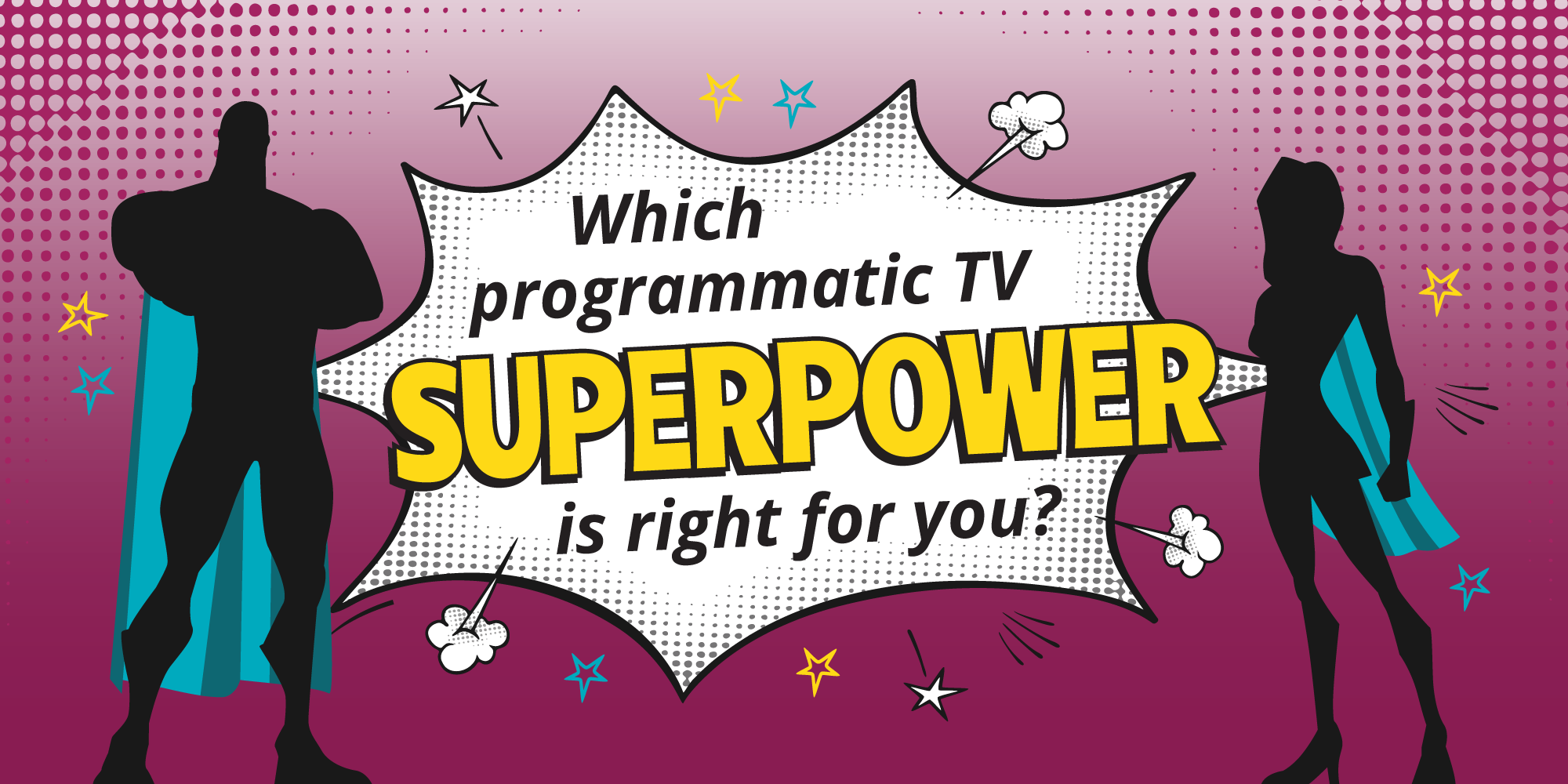 October 26, 2018
Give TV Advertising a Boost with the Right Programmatic Superpower
Which one is right for your media company?
Everybody dreams of having a superpower. Some folks want to fly, or have X-ray vision, or super strength. Programmatic technology gives ad buyers and sellers a set of superpowers never possible before: laser-focus for audience targeting; access to fragmented sources of challenging-to-buy inventory; and hyperspeed for complex buying workflows.
The word "programmatic" has become an umbrella concept covering several different styles of transactions, each with their own distinct superpower that can be harnessed for the good of your businesses. Before taking the big leap to programmatic TV, it may pay to spend some time determining which model will give your business with the superpowers it craves.
There are three common programmatic business models—open marketplaces, private marketplaces, and programmatic direct—that each carry unique benefits for buyers and sellers.
Open Marketplaces
Best for: Opportunistic buyers, advertisers coming to TV from digital

Not so great for: Guaranteed buys
Programmatic open marketplaces are perfect for purchasing multiple ad spots in a single transaction for campaigns that will air across multiple stations, geographies, and dayparts. Buyers get the power of X-ray vision for scanning and evaluating inventory from multiple sellers.
Buyers aren't the only ones with an advantage. For sellers, participating in an open marketplace is advantageous because it exposes their inventory to buyers who may not have previously considered TV. Since sellers have the final say on whether to close a transaction, there is little downside to join in.
There's one potential kryptonite in the open marketplace for buyers: it's an offer-based model, not an auction where a lowball bid might win the day. While great for scatter buying or opportunistic campaigns, open marketplaces may not meet the needs of buyers whose spots absolutely must run at a certain place and time.
Private Marketplaces
Best for: Transacting with your best customers, reserving certain ad spots for their use

Not so great for: Winning business from new advertisers
Some superheroes derive their power from advanced technology. What would a certain bat dude or metal man be without inventions that enhance their natural strengths?
Programmatic private marketplaces (PMPs) are a bit like a superhero tech lab—bestowing great powers to those with the keys, but only accessible by a select few.
Media companies use PMPs to supercharge relationships with preferred customers invited to review inventory are granted access to. Buyers are granted exclusive access to the lab—er, marketplace—to review inventory and use supercharged programmatic technology to speed up buys and target campaigns.
Programmatic Direct
Best for: Transacting with high-volume customers, selling programmatically with previously negotiated business terms

Not so great for: Winning business from new advertisers, working with customers that prefer to do business in traditional ways
Programmatic direct is a mutually-agreed connection that moves the old-fashioned manual back-and-forth between brands, agencies, and media companies to a programmatic platform.
Need to make an advertising transaction in a flash? Programmatic direct is the quickest, most efficient option.
Programmatic Direct is a mutually agreed direct technology connection that replaces the old-fashioned manual back-and-forth between brands, agencies, and media companies. These solutions can be set up to respect existing business rules and standards, so that transactions happen in fewer steps. Offers that meet standing business terms are automatically approved, creating a guaranteed, super-speedy transaction for both sides.
The programmatic direct model best suits traditional agencies, high-volume buyers, and media companies that want to foster a preferred relationship with buyers.
Selecting the Best Power-Up To Win The Day
Programmatic TV open marketplaces, private marketplaces, and programmatic direct reflect different ways of doing business with your clients. Your station group can elect to use one style or all three. It's completely up to you and your sense of how programmatic TV can best benefit you and your clients.
WideOrbit offers all three "superpowers" to station groups, and we're happy to work with you to identify the right ones for your business. Contact us today and let us know how we can help.