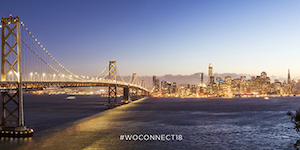 August 16, 2018
Things to Know Before WideOrbit Connect 2018
WideOrbit Connect 2018 is almost here. Our team is looking forward to hosting TV and Radio leaders for two days of insightful sessions, networking opportunities, and San Francisco activities.
Before you pack your bags and head West, here are a few things to remember ahead of WideOrbit Connect 2018.
Monday's Welcome Reception
Join the WideOrbit team and fellow attendees for the Welcome Reception, 5pm in Sunset Court at the Palace Hotel. Refreshments will be served between 5-7pm.
The days start early
Both days begin bright and early, but be sure to note the different start times for sessions.
Tuesday: breakfast starts at 7:30am, followed by a keynote by Eric Mathewson at 8:30am. Sessions will begin at 9:10am.

Wednesday: breakfast starts at 7:30am, and sessions will begin right after at 8:30am.

Special guest keynote
On Tuesday, we welcome a very special lunchtime keynote! Captain Randall Reeves will share tales from his 30,000 mile solo sailing expedition, and what you can learn from his experience.
Connect Casino Cruise
On Tuesday night, we set sail. After the final session lets out at 5pm, follow the signs to board our cable cars between 5:15-5:45pm (last cable car will leave at 5:45pm sharp). Don't forget to wear your badge and layer up—it's windy on the water.
Play the Connect game and win prizes
You will notice your room key card has a special design. Team up with three fellow attendees to place your keys together to form a composite, take a photo, and post it on social media with the hashtag #WOConnect18. There's a chance to win for those who participate!
Download the WideOrbit Connect 2018 app
If you haven't already, take a moment to download the official WideOrbit Connect 2018 app for iOS or Android. The app is the easiest way to stay on top of the conference agenda and activities.
Book a lab appointment
Labs are an excellent opportunity to connect with a WideOrbit product expert and ask questions. Appointments can be made via the Lab Appointments button on the app homepage.
Follow the fun on social media
#WOConnect18 is the official hashtag—follow along on Twitter, Facebook, and Instagram.
Check Facebook for photos
Follow WideOrbit on Facebook and check our page for daily photos from the conference!
Please complete the post-session survey
Please complete the survey after each attended session. Your feedback will help us shape future WideOrbit conferences and content.
We hope you find these reminders helpful! Please refer to the official WideOrbit Connect 2018 agenda or the app for an in-depth look at conference agenda and activities. See you at the Palace Hotel.