August 11, 2016
Simulcasting: Why Radio Stations Should Start Today
Simulcasting is rapidly becoming the preferred business model for radio stations to drive a streaming digital audio business alongside their core broadcasting business.
It's popularity is growing fast because it frees stations to serve out-of-market listeners with different station content and ads. Stations can opt to serve its broadcast content and advertising to in-market listeners over the air or to their internet-connected devices.
Why stations should simulcast
Stations with the potential for significant listenership outside their home markets can benefit from simulcasting in three clear ways:
Grow revenue by monetizing local and national audiences, either separately or in aggregate.

Nielsen's Total Line Reporting program lets stations add together their streaming and broadcast audiences for higher ratings. Station sales teams then gain the option to sell ads against their total audience or local and national audiences separately.

Give advertisers more options to reach listeners and increase audio campaign efficiency.

Spots are heard no matter what device a listener uses to access the station's content. It also eliminates the potential waste of delivering ad impressions to listeners who live in areas where they can't purchase the products or services being offered.

Streamlined station operations.

There's no need for stations to hire ad traffickers to specialize in digital advertising nor will existing team members have to learn multiple workflows for trafficking different kinds of ads.
How simulcasting works
Let's look at a scenario for a station operating in Seattle. In the illustration below, you can see that the station airs its audio from a broadcast tower to its local broadcast audience. It also streams with WideOrbit's WO Streaming platform from servers to listeners who access its content from the internet.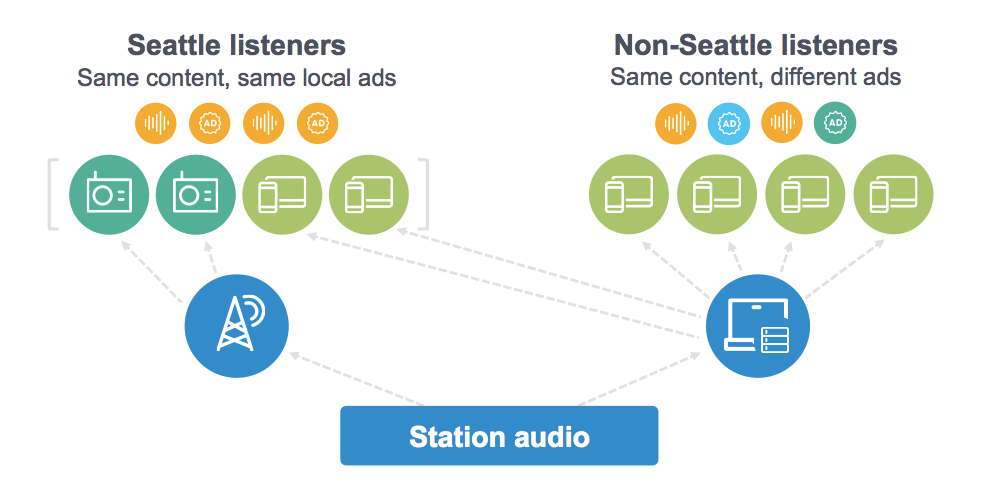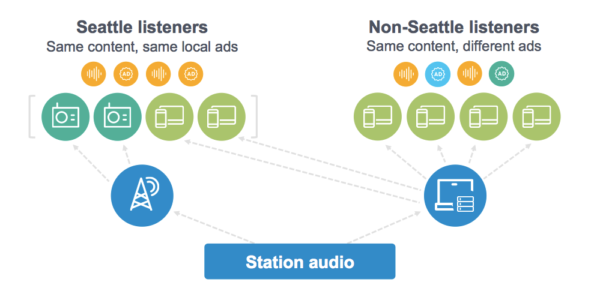 The station's broadcast content and ads are delivered to Seattle metro in-market listeners – represented by the dark green icons at left in the illustration – through their radios, car stereos and other traditional devices. On the right, the streaming server delivers content to devices to listeners both in Seattle and outside of the local media market. Whether the in-market Seattle audience listens from car stereos or phones, they hear the same content and same ads in the same order.
Based on its IP address, the station can make changes to the content flow to better serve non-Seattle listeners and advertisers, like replacing ads for local brands with internet-specific or national ads. This makes a more relevant and engaging listening experience for out-of-towners, who don't get value from promotions about Seattle-based businesses and products.
How top stations are using simulcasting
Tim Murphy, VP of Digital Strategy and Enterprise Platforms at Entercom, said during a recent WideOrbit webinar, "For local sellers, simulcasting has been a win. They see an increase in ratings and get credit for people listening on different devices in different parts of the world in addition to our broadcast audience."
"Advertisers feel good about reaching all listeners regardless of what kind of device they're listening through. And it has simplified our operations quite a bit. We were dynamically inserting ads into the local broadcast before we switched. That created a relatively significant amount of administrative work and processing and traffic in continuity. That's been eliminated."
To learn more about simulcasting and how WideOrbit helps stations grow revenue and delight audiences with the latest in digital audio streaming technology, contact us at simulcasting@wideorbit.com.
This post was adapted from a recent WideOrbit-RAIN News webinar on simulcasting featuring executives from Entercom and Nielsen. Click here to listen to the full 60-minute presentation, including a discussion on how Nielsen's Total Line Reporting program enables stations to monetize audiences listening online from anywhere in the world.