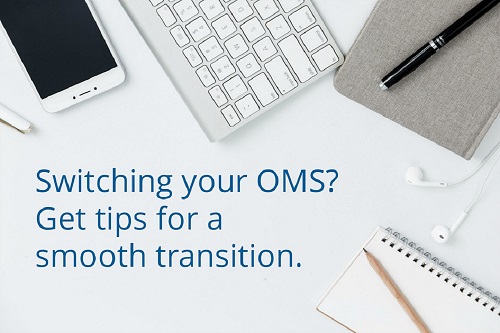 September 20, 2017
Making the Transition to a New Order Management System
Is your media company on the hunt for a new order management system? Anyone who has been through a major system transition knows to expect plenty of hiccups along the way. That's why it's crucial to start planning for your transition as soon as possible.
The first step is building a solid transition plan. Here are a few best practices and steps your team can take right now to pave the way:
Identify your OMS decision makers
Appoint a committee of key stakeholders across the business whose work will be touched by a new order management system. This group will set direction, review progress, report to executive management, and resolve issues that arise. Make sure that there's a "Buck Stops Here" committee chair who oversees objectives, requirements and milestones, and is the key contact point with vendors, outside resources and internal staff.
Don't let OMS selection become an IT project. They should have a representative on the team who is skilled at system integration and documenting requirements, but ultimately it's better to have your hands-on users steering the ship.
Agree on a time frame for OMS selection and implementation
The OMS transition will probably take longer than you expect. You'll want to give vendors an appropriate time window to thoughtfully respond to your RFP. Then you'll want time to assess competitive systems, select a winner, negotiate, and plan the implementation.
Those items together can easily take 4 to 6 months, and it could take another 7 to 12 months to implement the software, integrate it with your existing systems, and get people up to speed. When you add these months together and assume some errors and slack along the way, that leaves little time to hesitate. (Implementation of the Digital Orders module for WO Traffic or WO Network can be accomplished much faster.)
You should also consider natural busy periods for your business. Does work have to stop around a specific time of year or be completed before a major event?
Benchmark your current OMS performance
Replacing your order management system is an opportunity to bring real change to your ad sales process. Examine your current OMS and team performance to understand how a new one can improve it.
Measure key workflows and business metrics like reductions in days of accounts receivable; average RFP response time; fill rates; and frequency of errors that cause real or productivity costs. You can use this information to ask OMS vendors how their solution will improve these and for reporting to management whether the project has been successful.
Document OMS user requirements – all of them!
An OMS has such a huge range of functionality. You may wind up with a checklist of literally hundreds or thousands of items. In addition, you will inevitably identify many exceptions that address unique business situations that only come up occasionally
Interview people that regularly use the OMS to collect and agree on their requirements, then unite them into a comprehensive Product Requirement Document. You'll quickly find that there's a lot more than simply 'order management' to address. Don't forget to collect key reports and analysis performed in the current OMS that rely on system data in data warehouses or spreadsheets.
In the end, you'll have a document to guide decisions and provide a litmus test for the ability of potential vendors to suit your needs.
Build the OMS Request for Proposal (RFP)
Once you have your requirements and desired timeline, it's time to put them in an RFP format. In addition to what you've learned in your discovery process, this is your chance to share information with vendors about your company background and business objectives.
This is also where you'll have the opportunity to ask hard questions of your potential suitors. They should expect to explain what resources they can devote to your project as well as the total cost of their products and services (including licenses, hardware, software, 3rd party hardware and software); training; exception costs; annual maintenance support; and project planning.
Conclusion: Selecting the Right Order Management System
Planning for an OMS transition is nearly as important as the actual implementation. Careful planning, sharp timelines, and knowing the right questions to ask will make an important, complex project easier.
OMS vendors can be great sources of help for getting started with your transition. They've seen both successful and flawed transitions and can help you understand the opportunities and pitfalls you'll face along the way. Most importantly, they can instantly see whether a media company RFP asks questions that will help it excel or whether their transition process is setting them up for years of frustration.
Contact us today to find out how we can help you seamlessly migrate to Digital Orders for WO Traffic or WO Network.