September 5, 2017
New Research: Programmatic Radio Advertising Growing Fast
We asked more than 9,000 ad buyers and media company executives about the future of programmatic radio advertising. The answer came back loud and clear – this new transactional channel is on the verge of becoming a significant portion of audio ad spending in the very near future.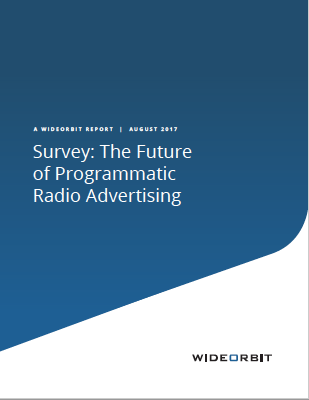 The exclusive report on our survey results are available today as a free download, The Future of Programmatic Radio Advertising. We believe this may be the first industry-wide survey on programmatic radio.
The survey shows the radio industry is optimistic about programmatic advertising and its growing role. Nearly two-thirds of respondents and almost 90 percent of ad buyers plan to use programmatic platforms in the next 12 months.
The survey also shows that buyers and radio companies have different reasons for embracing programmatic. Radio stations and groups are hoping for additional revenue, inventory protection and workflow automation, while ad buyers are looking to make campaigns more efficient or effective.
WideOrbit CMO Mickey Wilson explains, "Programmatic advertising solves both of these problems, which explains why almost all buyers plan to make greater use of the programmatic sales channel in the near future."
This is just one of the insights in The Future of Programmatic Radio Advertising. For much more, download our exclusive report with details on programmatic ad budgets, the growth of cross-platform digital and linear audio campaigns, and the features buyers and radio executives are looking for in programmatic technology.
A WideOrbit Report: The Future of Programmatic Radio
Press Release: Study Shows Radio Industry Set to Adopt Programmatic Advertising