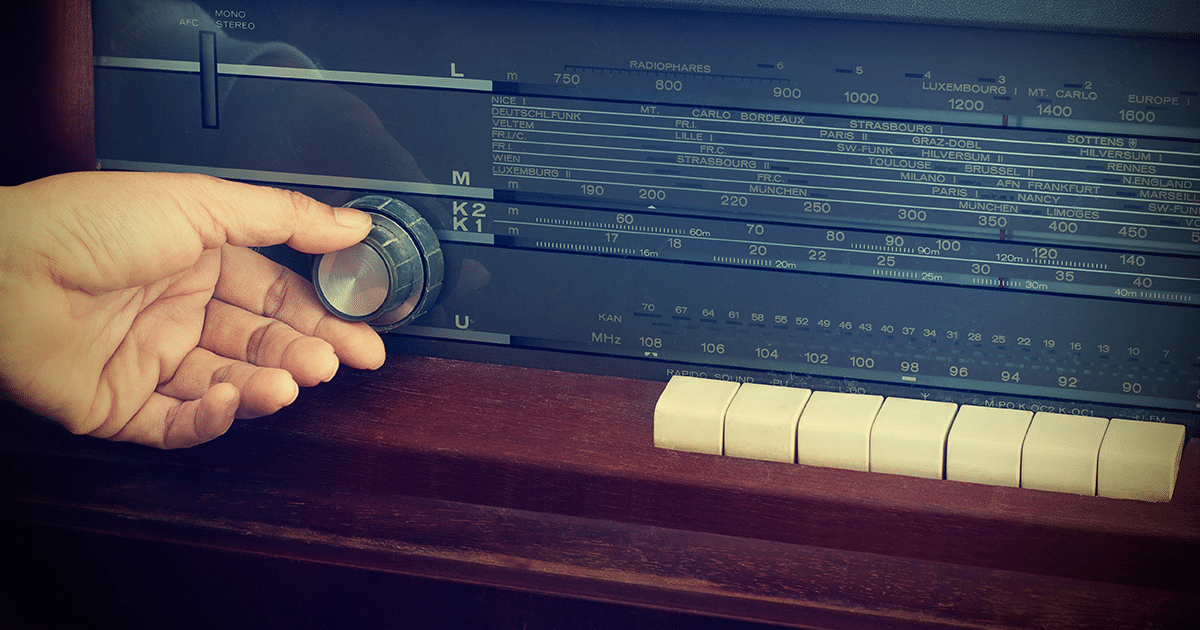 December 1, 2020
Happy 100th Anniversary to Radio: An International Love Letter to Radio
Part 4 of 5. Read Part 1, Part 2, and Part 3.
Today we present a single Love Letter to Radio from Irena Panduku of WBUR FM in Boston. As soon as it hit our inbox, we knew it was special and we knew we had to publish it in its entirety.
Spanning international borders and touching on world history, Irena's story is at once unique and universal. At its core, it's also quintessentially American. We're sure you'll appreciate it as much as we do.
Do you have a Love Letter to Radio you'd like to share? We'd love to hear it – tag us on social media and use the hashtag #WORadio100.
---
Radio… my close and dear companion, since my early childhood in Albania…
I was two or three years old, trying to get in behind and inside my grandparents' big radio-gramophone to find out who was hiding there, always talking and talking or singing sometimes. Who were these strangers, how did they get inside this beautiful piece of furniture? My grandparents laughing at me, wondering how to explain to a child my age that no one was there, that's just what a radio does. I did not believe them. But even though I was a little scared, I loved my grandparents so much I decided to love this beautiful old radio as much as they did.
I thought everyone loved that radio, as we'd all gather around, listening. I still see my mother enjoying her favorite classical music and radio dramas, my father listening to BBC News in the dark (it was so dangerous under the communist regime), my sister and I listening to kids' programs, this great actress who read fairy tales, making all the different characters' voices. She would select folktales from around the world, exploring important issues like kindness, generosity, persistence. The radio was always "on" in our house, it was never turned off. Growing up, my sister and I would play, do our homework, study, do our chores, all with the radio voice in background. It would feed my imagination, curiosity for the world, culture, science, people's lives, history, literature… I discovered my love for music, education, and learning.
Growing up in a communist country, totally isolated from the rest of the world during the Cold War years, radio became the only open window and connection to the outside world. With my friends, we would listen to Radio Luxembourg, Radio Monte Carlo, RAI (Italian Radio), the BBC. Tuning in to their long, medium, and short-wave AM programs, we would comment, discuss, talk. Dream. We discovered the Beatles, Rolling Stones, jazz. We sang and danced and dreamed. My old radio never stopped. I learned English, Italian, French, just by listening to radio. It became the best ambassador of the free world for my generation.
One day my old radio receiver with tubes died, no more spare parts could be found to keep it alive. My father, for the first time asked his sister, who lived in the USA, for a favor – to send us a radio, a portable one. The little transistor radio arrived, what a joy, a great happiness. I could take my new friend everywhere, to the beach, hiking… everywhere I was, my radio was with me.
My college years, Electronic Engineering… doing my projects, studying for exams, the radio was always on. Going to classes every morning, I would pass by the Albanian Radio building, dreaming of working there after college. And I did. It was a miracle. I started working on an old radio transmitter, and later I worked on planning AM and FM radio networks.
Communism collapsed. In the early 90s I worked with a BBC team to help the BBC radio signal cover all the territories where Albanians lived in the former Yugoslavia. It was just before the Balkan war.
Very sad times, great disappointments, the country on the brink of a civil war. My husband and I, with despair, decided to leave the country for a better life for our children. We took an opportunity and arrived in Boston, alone, immigrants.
This taxi driver we met, a former engineer, an immigrant himself from an African country, said, "I would recommend you to listen to this public radio station, WBUR, it saved my life when I arrived here with my family, three years ago."
My husband and I stopped at a Walgreens and we bought a small radio, tuned to WBUR, and kept it on always, even at night when we couldn't sleep. It really saved our lives. We learned what you can't find in books, about American life, culture, way of living, thinking, problems, rules, laws.
Three months later I was invited for an interview at WBUR, Boston University. They were looking for an Assistant Traffic Manager. The assistant to the General Manager asked me, "Would you accept this position?" I couldn't talk, I couldn't even breathe. I couldn't believe they trusted me. Radio again in my life, where it will remain forever.
Every morning I wake up, first thing I say is: Alexa, play WBUR radio station, please.
I am so happy. From my old radio in Tirana, Albania, to Alexa in Boston, USA – my life journey, always with a radio by my side. Thank you, Radio. Thank you, WideOrbit friends.
Irena Panduku
NPR – WBUR FM 90.9
---
Do you have a Love Letter to Radio you'd like to share? We'd love to hear it – tag us on social media and use the hashtag #WORadio100.
Remember to check back next week for the final installment of our series celebrating the 100th Anniversary of Radio, including more Love Letters. Maybe one of them will be yours.