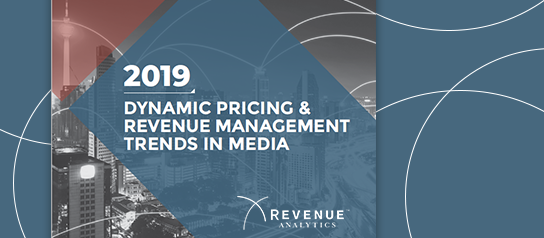 May 21, 2019
Digital Trends with BI and Predictive Analysis
As the industry continues to evolve, media companies are left wondering how to scale and monetize a growing digital, personalized approach. With the explosion of streamed content and mobile consumption, broadcasters must empower advertisers to augment their one-size-fits-all message to the masses with more targeted messaging.
Through third-party researcher TechValidate™, Revenue Analytics anonymously surveyed senior media executives who are coming to grips with this unfolding reality for their 2019 Media Trends Report. The report outlines key emerging trends and competitive strategies including:
The rapid migration of ad dollars to digital
The use of programmatic buying to enhance the quality of audience
The emergence of intelligent systems as a competitive weapon
While data isn't a new concept, focusing on business intelligence stands to make just as much impact as major industry movements toward convergence and programmatic transactions. Business intelligence has the power to defend against inefficiencies and pinpoint revenue opportunities to out-grow competitors. In fact, it was data that highlighted these trends in the first place, so – are you taking full advantage of what data can do for you?
Inaccurate spreadsheets and tedious home-grown solutions stifle companies from unlocking the true potential of their data. WideOrbit's robust, easy-to-use business intelligence solution, WO Analytics, can help. In combination with Revenue Analytics, users can leverage aggregated, trust-worthy data and cutting-edge predictive and prescriptive pricing capabilities to grow their revenue by 7%+. Save time and resources with reliable, actionable insights into today and customized next steps for tomorrow.
To learn more about WideOrbit's advanced media business intelligence solution and its partnership with Revenue Analytics, visit https://www.wideorbit.com/products/analytics-enterprise/.
To download the full version of Revenue Analytics' must-read report and its perceptive lessons on the mobile revolution in media, visit https://research.revenueanalytics.com/2019MediaTrends.