February 21, 2018
Customer Story: Hubble Contacts Focuses on New Customers with Local TV
A challenger brand found a rich new source of customers with local TV and WO Programmatic
When online lead sources like social media start to dry up, fast-growth consumer companies turn to programmatic TV to reach new audiences at scale. Here's how one digital-first startup used WideOrbit's WO Programmatic and broadcast TV to boost subscriber growth.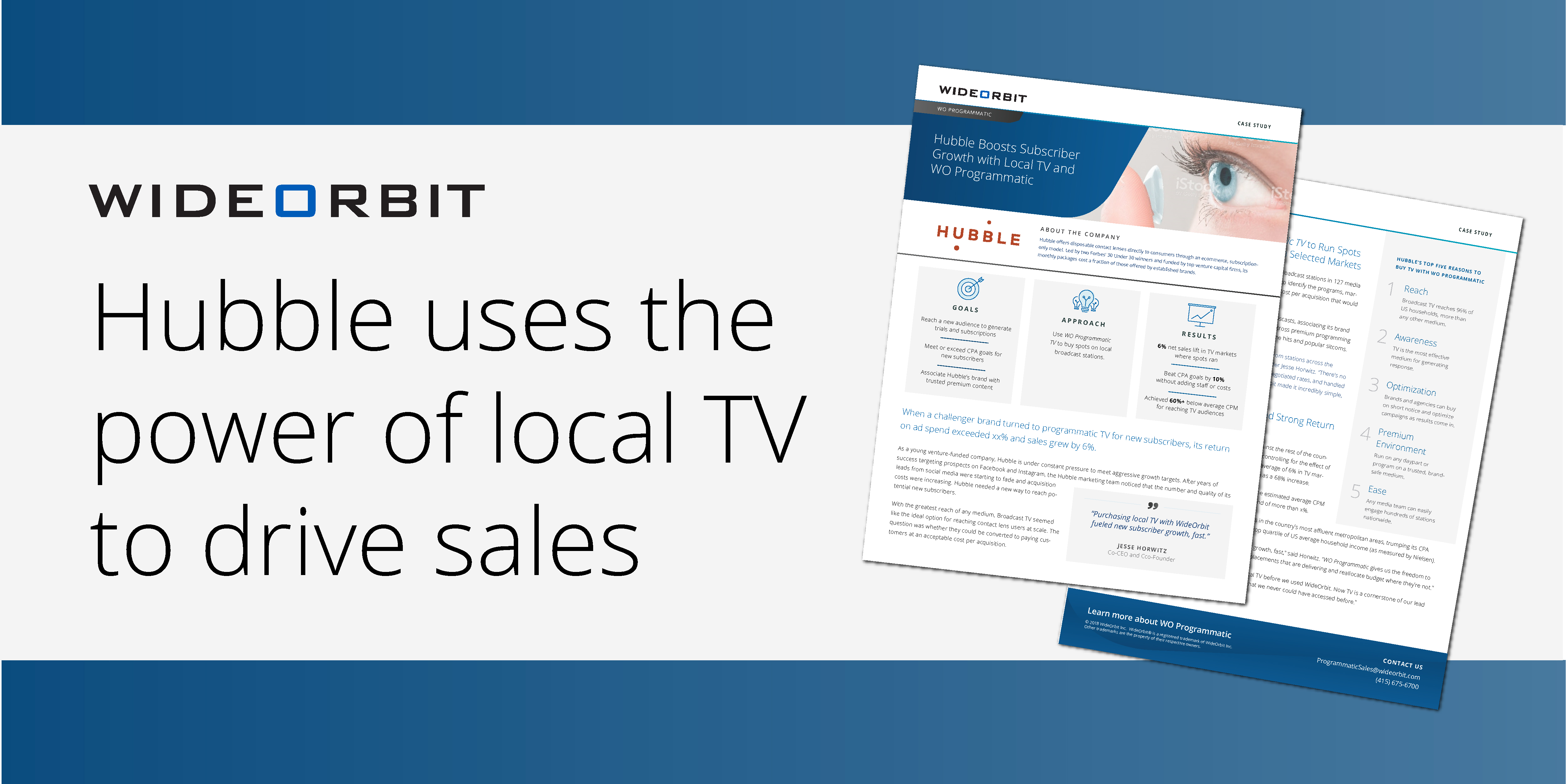 Hubble, a young company making waves in the contact lens market with monthly subscriptions of disposables, used Facebook and Instagram to source most of its initial customers. Hubble's marketing team found it increasingly difficult to generate leads from social at an acceptable acquisition cost.
With the greatest reach and effectiveness of any medium, broadcast TV seemed like the ideal option to reach a fresh source of contact lens wearers at scale. Hubble selected 127 TV markets to run spots.
The results were incredible. After controlling for campaigns running in other media, Hubble grew sales in these markets by 6% at an acquisition cost that beat its target by 10%.
Hubble's experience is consistent with brands profiled in the Video Advertising Bureau's 2017 report, "The Market Changer's Playbook: Why TV Is Where Disruptors Grow to Go Big." The VAB found "Brand Building Disruptors" like Airbnb, SoFi, Nest and Uber all got great results from TV advertising:
When they launched their first TV ad campaign, website traffic jumped between 11% and 1100%
Every company saw increases in searches, social actions and non-paid online views of their video advertising
Download our new customer story to see how Hubble scored new subscribers by securing spots on hundreds of TV stations around the country with WO Programmatic – without having to add any new costs or head count.
CUSTOMER STORY:  Hubble Boosts Subscriber Growth with Local TV and WO Programmatic
* The VAB defines "Brand Building Disruptors" as companies less than seven years old that have invested in TV only since 2014 (two years on average).