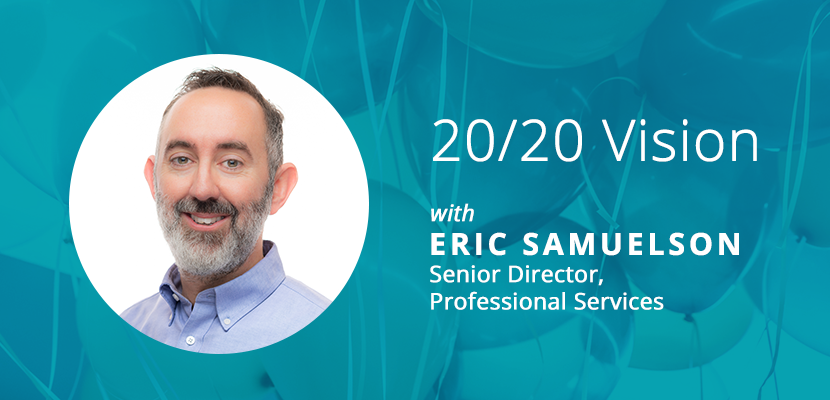 October 23, 2019
Part 5 of 5: The Secret Sauce
When I started at WideOrbit, I was tasked with traveling to local broadcast stations to train folks on the WideOrbit software. I thought this would be a rather robotic task – "click here, then there, etc." Little did I know how transformational a software implementation could be! I quickly learned that an implementation was more than an opportunity to replace a worn-out tool with a brand-new tool with more capability – it was a chance for an organization to completely reassess how they conduct their business.
In those days, we were often supplanting DOS-based "green screen" systems running on large mainframes that lived at each station. Users of those old systems often had to memorize a series of keyboard commands to execute a specific task. Moving to WO Traffic introduced the same graphical user interface and spreadsheet-like data visualizations people were using at home. Suddenly, staff who couldn't use the old system because it was too cumbersome could sit down and learn how to do something in WO Traffic in minutes. This efficiency greatly empowered individuals to spend more of their workday thinking strategically about maximizing the station's inventory and less of it with their fingers on the keyboard.
We quickly discovered during implementations of WO Traffic that our staff was being leveraged beyond just the tactics of how to do A, B, or C in the software. Management was coming to us asking how this new tool could be used to transform their operations. Luckily, nearly everyone at WideOrbit who works with our customers has also walked in our clients' shoes. We are former account executives, traffic managers, finance staff, and sales managers so we speak the language of our customers. This, by the way, is something I feel continues to set WideOrbit apart. We are able to advise on how to get their daily tasks done efficiently as well as consult on various business process improvements that allow stations to achieve more with less. Sitting down with a traffic, sales, or business manager to figure out a problem together – a problem that I'd be asking about if I were in their shoes – makes implementations incredibly rewarding!
Being an agent of change is awesome, but we must also recognize that there's only so much change that can be digested at any one time. Often, our clients intend to implement further changes and efficiencies in the months and years that follow their installation of WideOrbit software. Now that I manage WideOrbit's Professional Services department, years removed from my implementation days, I'm delighted when existing customers approach us a year or two after they've gone live on a WideOrbit product and tell me "I'm ready to take the next step".
Tackling customers' challenges allows WideOrbiters to put on our problem-solving hats and utilize our unique blend of industry backgrounds and software knowledge. It might involve a seasoned WideOrbit consultant working to implement a better cash-in-advance strategy. Or that consultant can be advising a broadcast group on how to roll out a streaming solution or to centralize pieces of their operations. Sometimes our problem-solving may be rooted in the software – requesting WideOrbit to build new functionality or integrations. In any of those scenarios, having a software vendor who understands your business and will ask the tough questions about what you want the software to do and why, goes a long way toward building a solid solution.
A relationship with WideOrbit doesn't end after our software has been fully implemented. It's in our DNA to make it easier to buy and sell advertising (our founder's vision since 1999) so this is actually when the hard work starts. We encourage customers to reach out and pick our brains. We can't promise we'll overcome every business challenge you face but we're always willing to take a collaborative look at it with you. When we can help, rest assured you're being served by individuals who understand your challenges and are 100% vested in seeing you succeed.
Eric Samuelson is Senior Director of WideOrbit's Professional Services Department. He started with WideOrbit as an Implementation Specialist in November 2002. Visit https://www.wideorbit.com/professionalservices/ to find out more about how Professional Services can help you succeed.