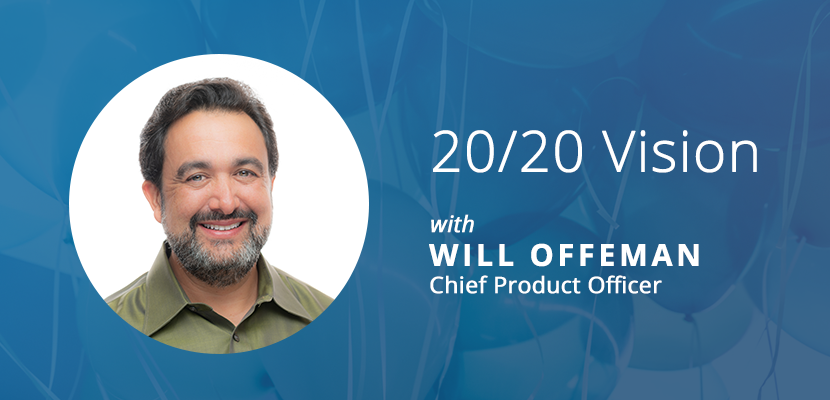 September 23, 2019
Part 1 of 5: We're Just Getting Started
It's hard for me to imagine that WideOrbit is now 20 years old. Having a Wall Street background, when Eric founded the company in 1999, he had one simple goal: to create an exchange making it easier to buy and sell media. We started on that mission by creating a new system of record for local media advertising monetization, a system for managing traffic, sales and billing. A system that could elegantly manage and optimize inventory—those perishable thirty second chunks of airtime.
Originally our flagship system was called WO Station but soon changed to WO Traffic since the core value is trafficking inventory—putting the best spots into slots. While initially created for over-the-air TV stations, we soon adapted the solution for terrestrial radio stations, satellite providers, interconnects, cable networks, rep firms and even taxi cabs and movie theaters. Again, Eric's vision was to make it easy to buy and sell media – any kind of media.
Over the last twenty years, both WideOrbit and the media landscape have evolved.  In order to keep pace, we've followed the mantra of listen and learn, then create fast reliable software.  In some cases, we purchased rather than built solutions.  It was very clear that content distribution via IP would reshape the media landscape.  In order to get ahead of that, we acquired four digitally native companies: Fivia, AdMeta, Abacast, and CastFire.  We renamed those product suites to be WO Digital Hub (discontinued – see Digital Orders), WO Ad eXchange, WO Streaming and WO On Demand respectively.
Update: In October of 2021, Audacy acquired an exclusive, perpetual license of WideOrbit's digital audio streaming and podcasting technology and related assets and operations. Audacy will continue to operate WO Streaming under the name AmperWave. WideOrbit retains rights and ownership to its video streaming technology and WO Ad eXchange (WAX) products. 
Today, these four solutions provide the critical building blocks around our core traffic platform to blur the lines between linear and digital workflows. Industry pundits have been saying that "TV is dying" for the last 20 years. TV has not died; in fact, it's flourishing and having new digital offspring. Terms like Advanced TV, dynamic ad targeting, and ATSC3.0 are used daily in our offices around the world and are obvious signs that we are dealing with a different animal these days. It's still just media at the end of the day – and that's what we do best.
Starting this year and for the next 24 months, our foundational pillars for continuous improvement will fall into three key buckets: automation, convergence and openness. Again, we collaborate closely with our clients and this is what they need in a nutshell: more efficiency, more flexibility and more integration. For example, unifying our sales tools under the seller console and aggregating demand will not only let our sell side clients maximize their inventory yield, but it will also create workflow efficiencies (such as automated airtimes) for our buy side partners. And all the energy being put towards the TIP open API initiative will no doubt make all boats rise for the broadcast TV industry.
It's hard to predict what the next twenty years will look like, from artificial intelligence/machine learning created content to virtual/augmented reality. However, people will continue to consume media and media producers will continue to monetize content creation via subscriptions and advertising – only at a much faster pace and with higher expectations on personalization and relevancy. At WideOrbit, we will be working to stay ahead of those curves and forks in the road, always going down these paths while pausing to listen to customers' feedback.
Will Offeman is Chief Product Officer for WideOrbit. He started with WideOrbit in 2000 and leads the strategy, design and development for all products globally. Visit https://www.wideorbit.com/products/ to find out more about WideOrbit's offerings.
Coming up next
Part 2 of 5: WideOrbit's Chief Revenue Officer shares his thoughts about leveraging technology to make ad sales easier for both the buy & sell side.