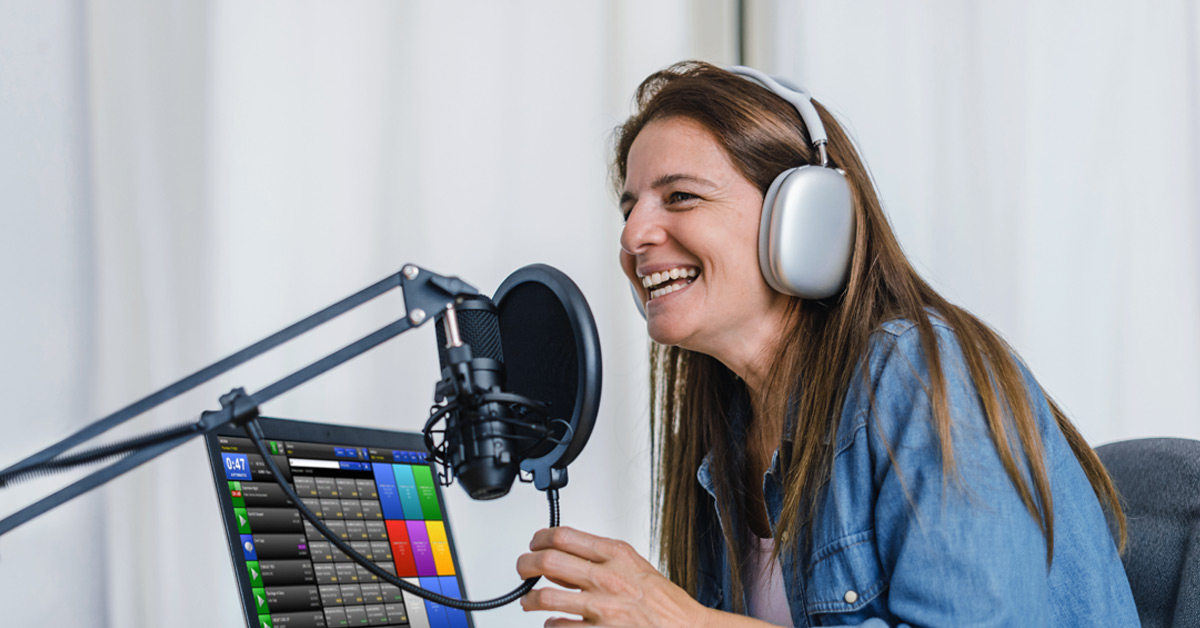 June 14, 2023
Efficiently manage the simultaneous creation of voice tracks for multiple stations with WO Automation for Radio Group Voice Tracking
Radio stations are facing unprecedented cost pressures and need to deliver quality programming efficiently and economically. Group Voice Tracking enhancements in WO Automation for Radio enable new, streamlined voice tracking processes to help broadcasters manage costs while keeping content standards high.
Improvements to the Voice Track widget provide a major upgrade to a critical component of WO Automation for Radio. With advanced Group Voice Tracking, stations can be organized into Groups, allowing stations to efficiently manage the simultaneous creation of voice tracks for an unlimited number of similarly formatted radio stations. On-air talent to record a single voice track and send it to all stations within a Group or record different voice tracks for some of the stations in the Group. And content adjacent to the voice track doesn't need to be the same on all stations.
We've also introduced enhancements to the integration between WO Automation for Radio and WO Traffic, allowing a live spot to be recorded into a voice track, then when the voice track plays, the live spot will automatically reconcile correctly in WO Traffic.
WO Automation for Radio is also now natively compatible with the Linux operating system, which allows customers to manage station operations knowing their systems have a greater degree of security and stability.
View our recorded webinar to learn more about enhanced Group Voice Tracking in WO Automation for Radio.
Cloud Environment for WO Automation for Radio
As announced earlier this year, we've also expanded our partnership with Telos Alliance to enable a fully-integrated cloud environment that combines Audio-over-IP (AoIP) control and routing for WO Automation for Radio, empowering broadcasters to dramatically reduce the amount of on-premises equipment needed to efficiently run a radio station. The environment also enables on-air talent who are geographically separated to jointly create live radio shows.
Under the expanded partnership, all server components of WO Automation for Radio and the Axia® Altus virtual mixing console can be installed in Amazon Web Services (AWS). Remotely contributed and on-air audio are delivered via the cloud using Axia Altus and other Telos Alliance technology.
AFR Mobile
If you have WideOrbit Automation for Radio version 4 or 5, AFR Mobile is an iOS app for your iPhone or iPad that allows you to control your stations on the go. You can record voice tracks, play hotkeys, edit your log, and more. AFR Mobile also has a special "Quick Record" feature that lets you make a recording and quickly place it on the air – perfect for breaking news or other time-sensitive content.
And if you're onsite at a remote broadcast or a sporting event, your talent can run the board remotely using AFR Mobile and eliminate the need and expense of having an in-studio board op.
Join us for our webinar on June 28, 2023, to learn more about how AFR Mobile can help you improve efficiency.
Total Radio Solution
WO Automation for Radio and WO Traffic are part of WideOrbit's Total Radio Solution, a suite of radio-focused tools designed to help stations large and small achieve their business goals, including:
Streamlined workflows across the radio ecosystem
Increased opportunities for revenue generation through digital audio
Improved advertising customer satisfaction and retention through simplified cross-channel transactions, from order to invoice to cash
Simplified access to in-depth performance insights to make smarter, data-driven decisions
To learn more about WO Automation for Radio, our partnership with Telos Alliance, or our Total Radio Solution, please contact us.