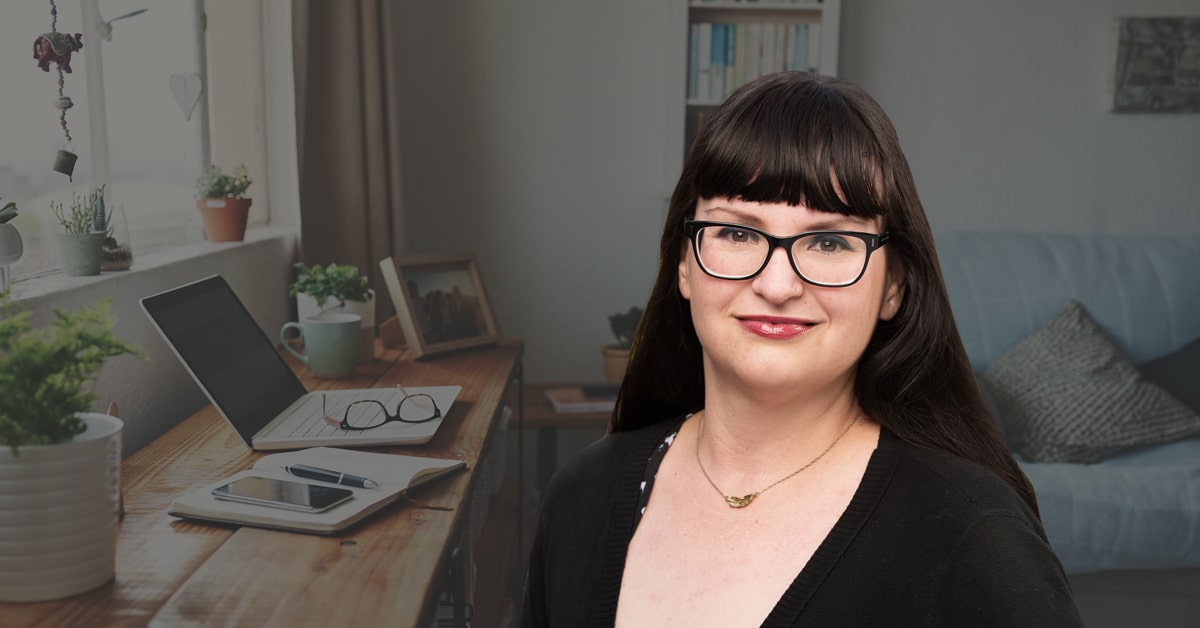 April 3, 2020
WideOrbit Works Remotely: Spotlight on Suzi Gomez, Sales Engineer
The world of work has changed dramatically over the last few weeks, with social distancing measures and shelter-in-place orders forcing many people to work from home. But with the right tools and systems in place, a successful transition to remote work doesn't have to be difficult.
WideOrbit is in the same boat as nearly everyone else. We are lucky to have a large contingent of employees who have always worked remotely, which means we already have systems in place to support working from home. Many of our products also offer features and functionality that allow our clients and their teams to work remotely.
But not only that, the experience of those who work from home regularly can be extremely helpful to those of us, clients and staff alike, for whom remote work is either totally new or something done only occasionally. We recently sat down with Suzi Gomez, a Sales Engineer with WideOrbit, to ask about her experience working remotely.
What do you do at WideOrbit?
As a Sales Engineer, Suzi says she gets to, "Showcase WideOrbit's solutions to prospects and clients via product demonstration and discussions."She's been at WideOrbit since August 2011, first as an Account Manager and the last five years as a Sales Engineer. Suzi says she feels fortunate that, "Right from the beginning of my employment, I have been able to work from home as I needed or wanted to. I feel this is one of the biggest benefits I have as a WideOrbit employee — the flexibility, trust, and confidence in me to work remotely."
What does a typical workday look like?
When asked to describe a typical workday, Suzi says, "One of my favorite things about being a Sales Engineer is that there isn't a typical workday, per se. I do product demos, either remote or onsite, when possible." She also works on, "Request for Proposal/Request for Information responses, maintaining demo databases, and keeping up to date on our products and their new modules, features, etc."
Working from home can present challenges around being physically set up to work efficiently and productively. Of her at-home workspace, Suzi says, "I have a big desk where I have room for both my computer and writing/notetaking, and a proper chair." Noting that it's important for her to have the best ergonomic setup possible, Suzi adds, "I also have a USB keyboard and mouse plugged into my laptop and a wireless headset for meetings and demos."
Do you have any tips for maintaining work / personal life separation while working from home?
Remote workers often talk about the challenge of knowing when and where work ends, and downtime begins. Suzi says that for her, "Defining the physical space that is used for work within the home is key. It helps make the work/home separation tangible and real. Once you've walked out of that room or area, you know you're finished for the day." After a pause, Suzi adds with a smile, "Well, that's if you can abstain from looking at Outlook on your phone throughout the evening. But that's another topic altogether."
What kind of adjustments have you had to make due to the current COVID-19 situation?
Since Suzi works from home normally, we wanted to know if the current COVID-19 situation has had much of an impact on her work life. She says the biggest change is that she's, "No longer the only person in the house working remotely." When you're used to working at home alone, the presence of another person can be a slight distraction at best, a disruption at worst, but Suzi says, "We've found that keeping each other in the loop when one or the other is going to be on a call helps us be aware of each other's space and privacy needs. It's a minor adjustment but it makes a big difference."
What would you tell WideOrbit clients looking to make it easier for their teams to work remotely?
"Facilitating virtual communication and teamwork is important," Suzi advises. It's critical to have tools that can be provided or suggested to the various teams in the organization. "For example," she adds, "you can hold virtual meetings via video conferencing and communicate with colleagues via chat software." But one of the most important tools, she says, is, "Scheduling recurring virtual team meetings, even just to check-in as a group. Even just 15 or 30 minutes a day will help people feel less socially isolated, allowing them to more easily grow accustomed to working remotely."
Your top pro-tip for being productive while working remotely?
"Calendar your day, even the little tasks and to-do lists. I actually think this is a pro-tip for being productive period, whether working remotely or in the office. It helps keep me on track and accountable while fostering a sense of accomplishment as each item on the list is marked as 'done'."
As Suzi points out, having the right tools is critical to working from home effectively, especially now that entire teams are going remote. Many WideOrbit products allow for remote access, to help you make the transition. And everyone at WideOrbit is committed to working together to continue supporting our clients, even while we're apart.
Contact us to learn more about how WideOrbit cloud and browser-enabled solutions can help your team take advantage of remote access.