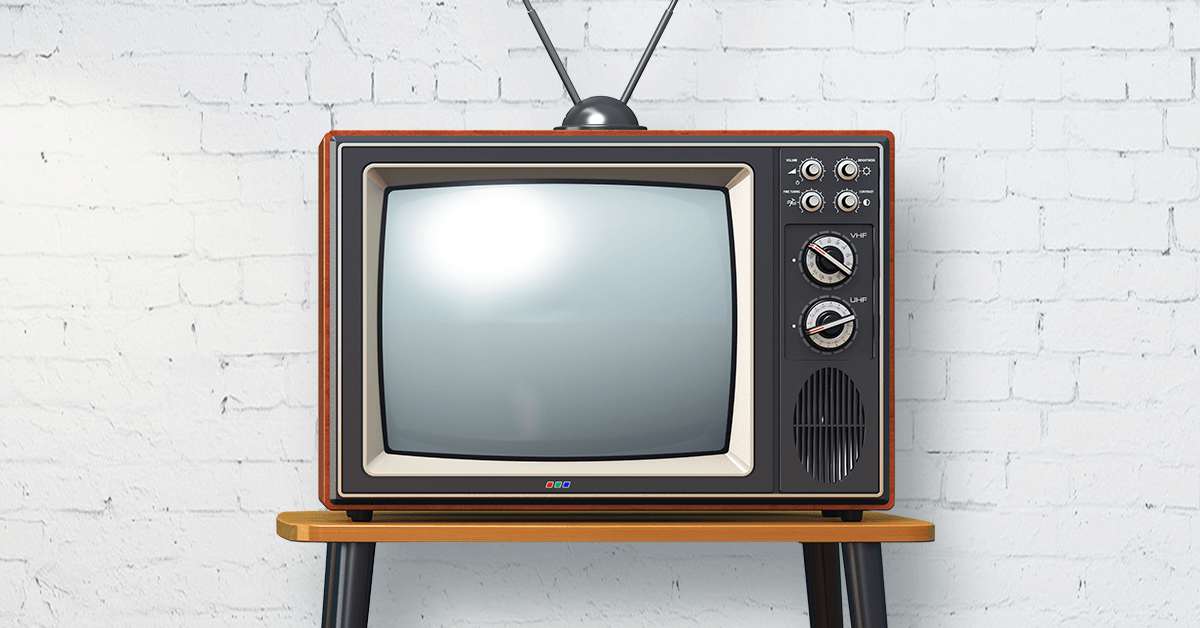 September 6, 2022
Television turns 95: Celebrating with our favorite commercials
Ninety-five years ago, on September 7, 1927, Philo Farnsworth transmitted the first all-electronic television image. Unlike previous efforts at television transmission that involved mechanical components, Farnsworth's transmission was fully electronic, marking a milestone in television history by introducing the possibility of a television set in every living room.
That possibility would take a few years to become reality but since then, TV has become central to contemporary life, bringing us news and information, live coverage of sports and current events, and a vast catalog of culture-defining entertainment. And that includes the commercials, which have become an art form unto themselves.
Even though the first commercial didn't air until 1941 – a Bulova watch commercial during a Brooklyn Dodgers vs Philadelphia Phillies baseball game – we thought we'd celebrate the 95th anniversary of Philo Farnsworth's first electronic television transmission with a look back at a few of our favorite TV commercials.
1971 – "Let's get Mikey – he hates everything!" Life cereal's iconic commercial was a staple during Saturday morning cartoons through the 70s and early 80s. Often misquoted as, "Let's get Mikey – he'll eat anything," the ad won a Clio award in 1974.
1973 – "Cause Oscar Mayer has a way with b-o-l-o-g-n-a." Another staple of Saturday mornings, this Oscar Mayer ad became one of the longest running commercials of all time. You'd be hard-pressed to find a child of the seventies who can't still sing the catchy jingle verbatim.
1986 – "The California Raisins" These Claymation, R&B-singing raisins started out in a commercial for the California Raisin Advisory Board but went on to endorse Post Raisin Bran and release four studio albums. They were also featured in a 1988, Emmy-nominated primetime special called Meet the Raisins!
1999 – "Wassup!" This Budweiser ad first aired during Monday Night Football in 1999 and became a pop culture phenomenon when it ran during the 2000 Super Bowl. The commercial is responsible for the unmistakable sound of "Wassup!" heard across media and in the streets ever since. It's also considered both one of the best and one of the most annoying commercials of all time.
2000 – "Make 7-Up Yours!" This humorous 7-Up commercial featured Orlando Jones as a clueless ad writer oblivious to the offensive connotations of his great new slogan.
2002 – "Respect" Budweiser's 9/11 tribute ran just once, during the fourth quarter of the 2002 Super Bowl, with updated versions running to mark the 10th anniversary in 2011 and the 20th anniversary in 2021. Demonstrating the power of TV commercials to move us, the ad features the Budweiser Clydesdales travelling into an eerily quiet New York City, then taking a knee and lowering their heads in tribute toward the city skyline.
2006 – "I'm a Mac \ I'm a PC." This popular Apple computer campaign ran a series of ads using humor – and, some argued, a sense of smug superiority – to compare the attributes of a cool and laid-back Mac to those of a nerdy and uptight PC.
2007 – "Little Lad – Berries and Cream" Definitely in the running for one of the strangest commercials ever made, this 2007 Starburst ad featured performance artist Jack Ferver as the little lad, singing and dancing about his love for berries and cream. Starburst has since discontinued the flavor but thanks to TikTok, both Ferver and the little lad have recently enjoyed a resurgence in popularity.
2008 – "Fate" Directed by David Fincher, this much-loved Nike ad tells the parallel stories of pro football players LaDainian Tomlinson and Troy Polamalu from birth through childhood to adulthood, until "fate" finds them face-to-face, on opposing sides in an NFL football game.
2010 – "The Man Your Man Could Smell Like" Old Spice boldly embraced the new wave of weird internet humor to create this truly iconic commercial, successfully repositioning the product line as a brand for the younger demographic. Suddenly Old Spice was cool, no longer just a staple for Grandpa's Christmas stocking.
2014 – "The Time Machine" This Doritos commercial was made on a budget of $300 and won the company's 2014 Crash the Super Bowl contest. The spot's creator, Ryan Thomas Andersen, received a prize of $1 million dollars and a chance to work with Marvel Studios on The Avengers: The Age of Ultron. The commercial ran over 5000 times in the year following the win and still reappears regularly. Sadly, Andersen passed away in 2018.
2016 – "Marilyn" This Snickers ad featured tough-guy actor Willem Dafoe as a hangry Marilyn Monroe filming the iconic subway grate scene from The Seven Year Itch. The spot was part of Snickers' "You're not you when you're hungry" campaign, which previously featured Betty White and Abe Vigoda in 2011.
2022 – "Don't be like Larry" In this commercial for cryptocurrency exchange FTX, contrarian comedian Larry David poo-poos some of humanity's greatest inventions. And among those great inventions, the ad would have us believe, is cryptocurrency. When the ad debuted during the Super Bowl the Twitterverse was divided, but love it or hate it, the commercial definitely got people's attention.
2022 – "The New Frontier" This Salesforce commercial features Matthew McConaughey as an astronaut commenting on the importance of taking care of Earth as the nature of business changes. The ad debuted during the opening ceremonies for the 2022 Winter Olympics and ran again during Super Bowl LVI.
And while we're not quite as old as television, WideOrbit has been making it easier to buy and sell advertising since 1999. Whether you're buying or selling TV, radio, or digital, we have the tools to make your life easier. Contact us to learn more.