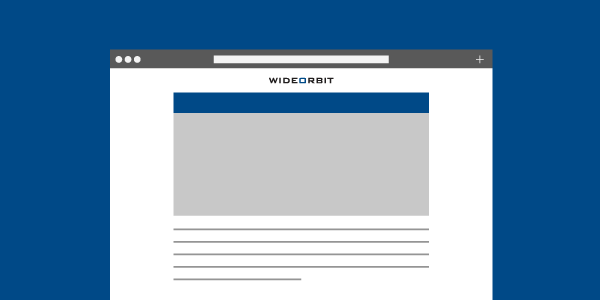 March 11, 2015
Station Spotlight: WRAA-AM / WMXH-FM, Luray, Virginia
Bright Radio builds community in the Shenandoah Valley
Buying WRAA-AM and WMXH-FM in Luray, Virginia, fulfilled an adolescent dream for Carrington Thompson. He started working in radio at the age of 17 and then a hiatus from the industry after earning his MBA to work in strategic marketing. In his retirement, Carrington decided to return to his radio days.
Carrington admits that there have been many surprises along the way, perhaps none more than on the evening of October 24, 2014, when his satellite music provider cut off service without warning. Carrington signed the station off that night for what turned out to be 7 weeks. Carrington says, "It's back up and running thanks to the outstanding support WideOrbit provided in making the installation a success!" And this time he has the means to attain his goal of originating all of his stations' programs locally with WO Automation for Radio.
Carrington and his sales manager, Jackie Elliott, make up the two-person staff that runs both stations. Jackie is a long-time Shenandoah Valley resident, and she and Carrington work together to make Bright Radio 105.7 an uplifting and community-centric station. Bright Radio's tagline is "Sassy soul and fun-time rock & roll." The stations' focus on embracing this identity by playing positive music and offering daily motivational thoughts from community members and religious leaders.
When Carrington bought WRAA and WMXH, the only thing local about them were their advertisements and an hourly weather forecast. The station format was changed to reach a wider audience and focus on community ties. The community affairs program, for example, transformed from political talk to become a show dedicated to local issues. Community spokespeople from nearby school boards, hospital administrations, and the like have visited the Bright Radio studio to talk about relevant topics with their friends and neighbors. This has stirred up new excitement in the community, and one town councilperson even told Carrington that she had waited her whole life for a station like this to come to the Shenandoah Valley.
Like WideOrbit, WRAA-AM and WMXH-FM value optimism and strong community. WO Automation for Radio is proud to help bring their message to the Shenandoah Valley.