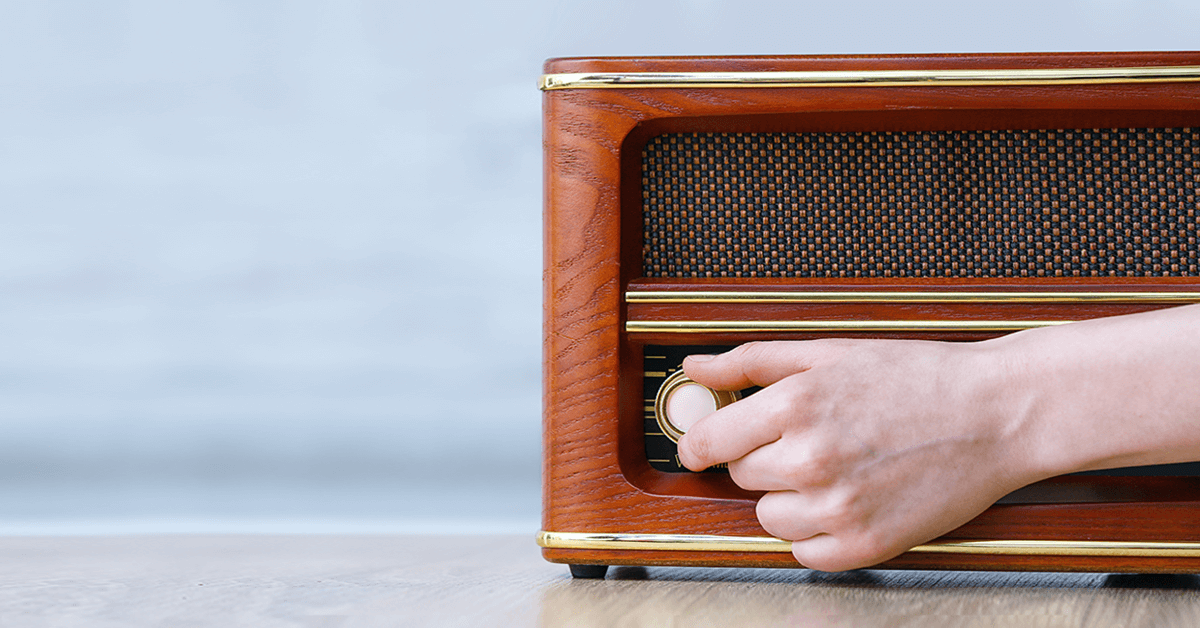 August 24, 2022
Celebrating National Radio Day and Radio Commercials Day
With National Radio Day on August 20th and Radio Commercials Day on the 28th, we thought we'd celebrate both by gathering a few radio stories from our colleagues here at WideOrbit. Radio holds a special place in our hearts, and we appreciate its unique ability to entertain, inform, connect, and support our communities. We're also extremely proud of the small part we play in helping the stations we've known for years, sometimes decades, deliver the programming their listeners love.
What follows are some of our favorite radio stories and memories, including a few memorable radio commercials. We hope you enjoy.
We started young
James Estepp
SVP, Software Engineering
"Two of my sisters and I were in my father's bedroom – not approved of but he had our only radio. I heard "Great Balls of Fire" by Jerry Lee Lewis."
Sales Coordinator, WO Automation for Radio
"The radio was always on in my household. It's the first place I heard "Downtown" by Petula Clark and "Up, Up and Away" by The 5th Dimension – songs that still resonate with me today. I remember tuning to the 'station of record' in Baltimore, WBAL (a WideOrbit Customer), first thing on a snowy morning to find out if we'd be going to school. And listening to rocker WLPL (now WERQ, also a WideOrbit Customer) in high school and realizing that radio was my life's calling."
Maria Antonucci
Early Adopter Specialist
"Listening to WHCN in Hartford with my sister and she won an Eric Clapton 45 of "Layla". We thought it was the coolest thing ever."
Technical Support Engineer
"When I was about eight years old, "Ebony and Ivory" used to play regularly right when I was going to bed. I would fall asleep listening to it."
Provisioning Manager
"When I was in the third grade, we'd listen to the radio every morning while getting ready for school, and every morning I would call in and request Tina Turner's "What's Love Got To Do With It". I would never hear it before I had to leave for school. On the very last day of school, the morning DJ said, "Dedicated to the little girl who calls in every morning to request this song," and they finally played it for me, wishing me a good summer break. (I don't know why an 8-year-old would love this song so much, but I did and still do!)"
VP, WO Automation for Radio
"I was in the home where I grew up in Bluefield WV. I was about eight years old, and my parents introduced me to radio. It was around 1977 when acts like the Eagles and Fleetwood Mac were huge. I was listening to the radio stations where I would work about a decade later – the stations where my 33-year radio career began. Today these stations all use WO Automation for Radio! I still experience joy every time I hear that music – it reminds me of that very happy time. My parents still live in the same house, and I still think of that happy era and radio's place in it every time I visit."
Rick Daniels
Client Services Specialist, Implementation
"My earliest memory was listening to Beeg and the Breakfast Bunch on WSTO in 1988. I was eight years old. It inspired my 25-year career in radio before I came to WideOrbit."
Francis Johnson
Director of Operations, Implementation
"I was eight years old listening to story time daily at 5 pm. The story centered around a villain named Dr. Bobo. This was in Bulawayo, Zimbabwe."
Patricia Rodriguez
Lifecycle Marketing Specialist, Marketing
"I was four, listening to Bay Area's 96.5 in my dad's 92′ Nissan Pathfinder. Every Saturday morning, we would get donuts at our local shop, and he always listened to KOIT, "Light rock, less talk.""
Making old-school playlists (AKA: mixtapes)
Sales Renewal Specialist, WO Automation for Radio
"As a pre-teen in the 80s, I remember capturing my favorite songs by recording the radio on cassette tapes. Then listening back to the music and DJs over and over and over again (until the tape was eaten by the cassette player)."
Derek Fike
Technical Support Engineer
"Like most kids in the 80s, we sat by the radio waiting to record our favorite songs. We would call into the station with our requests. I cannot count the number of times I called KUBE 93.3 in Seattle to ask for "Parents Just Don't Understand" by DJ Jazzy Jeff & The Fresh Prince."
Laura Adams
Product Support Specialist
"In junior high, and even high school, I used to make mixtapes of my favorite tunes on the radio and play them on my boom box while roller skating around our neighborhood or in my car. Everyone listened to the same two or three stations with local DJs in town, so if you didn't listen, you weren't "in the know". After leaving home and heading to college, I ended up finding new stations, new formats, and new styles of music as well. I think the last mixtape I ever made from the radio was for a Spring Break trip to Florida."
Listening in the car
Patricia Rodriguez
Lifecycle Marketing Specialist, Marketing
"I always listen to the Radio when I'm in a car or driving. Sometimes I plug in my iPhone to stream some tunes, but for the most part I like to enjoy the radio hosts and music."
Nisie Pimanmas
Manager, Integrations
"With my parents in the car, listening to a local AC station when I was in elementary school. That same station took dedications in the evening (still does!) so my BFF and I would call in and make dedications to each other in HS. It was a thrill to hear our names on the radio!"
Duncan Gilmore
Marketing Coordinator, Marketing
"I remember listening to the radio in the car with my dad a lot when I was little. In addition to classic rock, on weekends we would always listen to the NPR radio shows Car Talk, which I didn't always get but I thought was funny, and Prairie Home Companion which I didn't always get and didn't think was funny."
Laura Adams
Product Support Specialist
"Once I graduated college and started working, I always listened during my drivetime, for the music as well as the traffic updates, working in a large city. When I started working from home, I almost stopped listening to the radio, as I've switched to primarily audiobooks. But it's still a necessity any time I go on a road trip – the radio must come on!"
Kathy Biscardi
Product Support Specialist, WO Traffic
"One memory I have is of riding in my parents' car from Massachusetts to Virginia. Our route took us along the Chesapeake Bay Bridge-Tunnel. While traveling across, I distinctly remember the radio station my parents had on in the car playing the Paul and Linda McCartney song, Uncle Albert/Admiral Halsey, and the lyric, "Hands across the water (water)"."
We have fond memories of working in radio
Laura Adams
Product Support Specialist
"I did an internship with our local radio station over a summer during high school. They paired with a local car oil change place and did an informal survey. When the worker turned the car on, they would fill out the information as to whether the driver had the radio station come on automatically, and which station it was tuned to. I was the one that distributed and collected the surveys, as well as collating them. It made for some interesting results!"
Maria Antonucci
Early Adopter Specialist
"One of my favorite memories was working at WKLS in Atlanta and we sent listeners to a huge outdoor show at a speedway in Dallas and some of the employees got to go. We had all access, which I was lucky enough to experience a lot in radio, and we got to see so many great new acts from a very comfortable, fancy room!"
Rob Sidney
Sales Coordinator, WO Automation for Radio
"Most definitely the quarter-century I spent as Director of Programming & Operations at WLYF-FM Miami (a WideOrbit Customer) is a highlight. It was the opportunity to build an adult contemporary brand from the ground up, and then build an incredible ensemble cast of air talent, technical, and support folks. It was a marvelous operation internally, with all departments focused on a core listener and a common goal. And the service we provided the audience was unmatched. Today LITE FM is the most durable adult music brand in the market's history."
Nisie Pimanmas
Manager, Integrations
"So many to share! Hearing Carmina Burana come on the air, signaling the start of the pledge drive and long hours fueled by donuts and coffee for 10 days. Being star struck when Trent Reznor came into the studio, but not as much as when being told to hush because a couple of us were squealing over Philip Glass's visit. A jock blowing up a huge stuffed animal live, on-air, over all the equipment, and the dread coming over me that I would have to clean out every last fiber. And coming in to work on 9/11 with everyone crying on-air, reporting on the news even though we were a music station."
Sara Burns
Provisioning Manager
"I was the very first Traffic Manager for KEXP, who very recently became a WideOrbit customer. This non-commercial station is unique, ground-breaking, and very beloved, so it was an honor to work there when they were developing the technology for streaming, something that was brand-new at the time. On Ash Wednesday 2001, there was a large earthquake, sending us under our desks for cover, and I believe the morning DJ may have accidentally sworn live on-air."
Rick Daniels
Client Services Specialist, Implementation
"A highlight for me was being a CMA & ACM nominee in 2020 for my morning show at WGGC-FM."
Radio commercials can leave a lasting impression
Duncan Gilmore
Marketing Coordinator, Marketing
"When it comes to radio ads, for me the jingle is the key factor, and probably my favorite jingle ever is for Big O Tires. "A reputation you can ride on, Big O Tires – [deep voice] – BIG O.""
Derek Fike
Technical Support Engineer
"A local electronics store, Video Only, has such an annoying tag line that I immediately turn the station when their commercial comes on. Every time! They have used the tagline for 30+ years."
Michelle King
Sales Renewal Specialist, WO Automation for Radio
"Dick Julson's Auto Sales had the WORST commercial, but it stuck in your head. It was a jingle that sang, "Go see Dick! Go see Dick! Go see Dick!" The tag was a woman's voice saying, "[NSFW]"."
William "Dub" Irvin
VP, WO Automation for Radio
"Perhaps the most memorable was the first local commercial I was asked to voice. They made me redo it three or four times until I didn't sound so 'southern'. (Keep in mind, we were in Bluefield, WV.) This experience was the beginning of the end of my regional accent."
Radio was, is, and will always be…
Michelle King
Sales Renewal Specialist, WO Automation for Radio
"Radio is very personal, and the on-air staff become "friends". These friends are with us through good times, tough times, heartbreaks, and more. And when there's a major crisis, they are our most trusted source for local information."
We hope you'll join us in celebrating National Radio Day and Radio Commercials Day by spending some time listening to your favorite station. Happy listening!