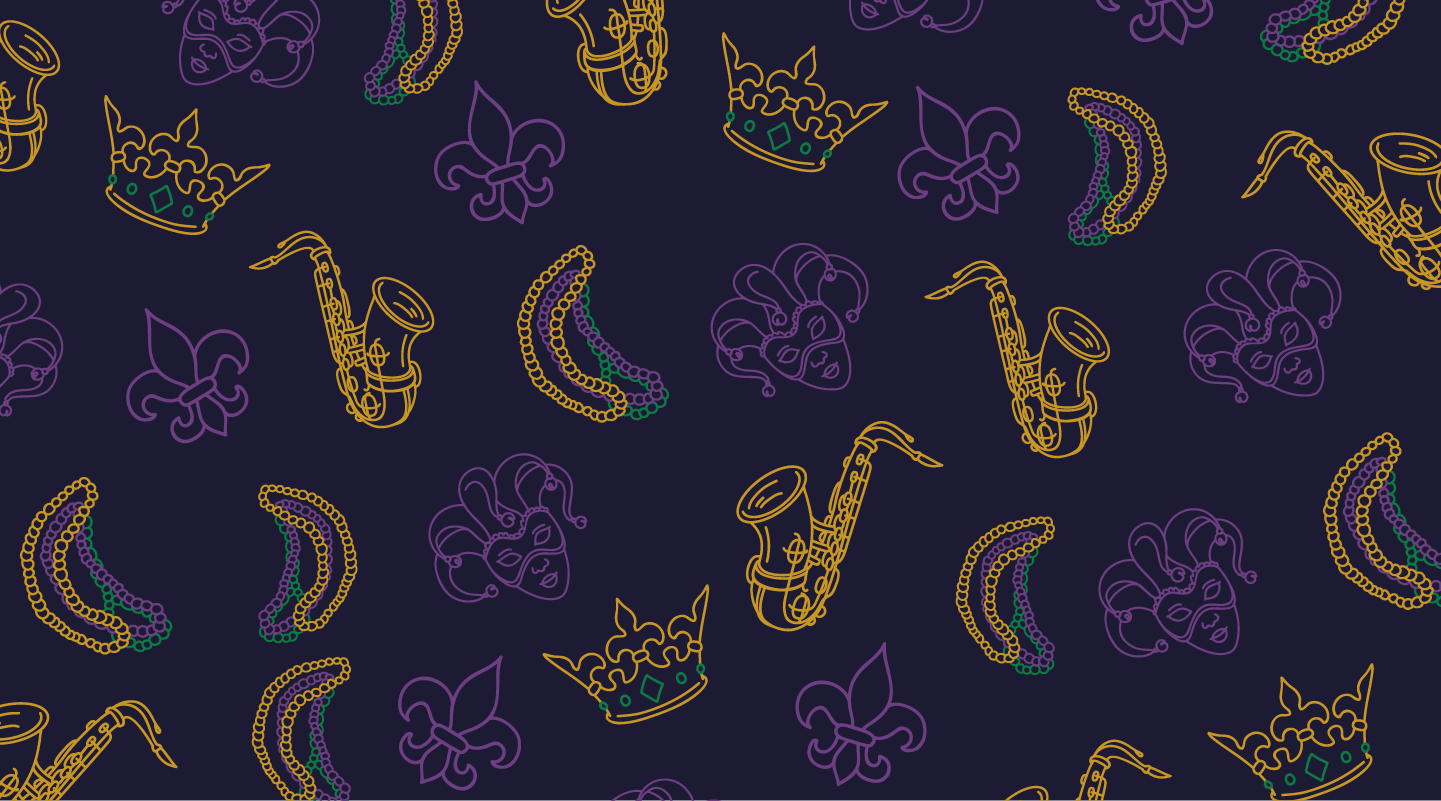 WideOrbit is excited to celebrate Mardi Gras with you!
Below you'll find FAQs and the Itinerary for our upcoming trip to New Orleans. We'll continue to fine tune the details as more information becomes available.
Feel free to reach out to events@wideorbit.com if you have any questions.
As they say in the Big Easy, "Let the good times roll!"
FAQs
What to do I need to do to prepare for travel?
Please book your flights as soon as you're able to, and complete the Attendee Details Questionnaire so we can plan accordingly. When booking your travel, please note that we'll formally kick off with dinner at around 6:30 PM on the first evening. We recommend landing by approximately 3 PM, so you have time to check in at Maison de la Luz, unwind and relax before we head out for dinner as a group.
Tell me about the Krewe of Orpheus Parade!
You will be riding on a float in the Krewe of Orpheus Parade on Monday, February 20. Krewe of Orpheus is a 32-year-old organization with 1,300 members that take part in Mardi Gras each year. The Krewe was co-founded by Harry Connick Jr. and he, along with some guest celebrities, will be part of the parade. Beads and trinkets (throws) are provided by WideOrbit and will be readily available for you on the floats. Krewe of Orpheus provides a luncheon for float riders before floats depart for the parade. Beverages and snacks on the float will also be provided by WideOrbit.
What should I pack?
We suggest wearing layers, as temperatures can fluctuate between 48 and 65 degrees in February. There will be a great deal of standing and walking throughout parade day, so be sure to pack a comfortable pair of shoes. WideOrbit totes are provided for your use during the parade.
Dinner will be provided by WideOrbit on Sunday, February 19, at Galatoire's, where the dress code requires a sports coat and slacks for men and business casual for women.
What should I wear to the parade?
WideOrbit will provide you with the official Krewe of Orpheus costume onsite. Please provide your size information by completing the Attendee Details Questionnaire.
Accommodations – Where will we stay?
WideOrbit has booked a room for you at Maison de la Luz. Your room confirmation number will be sent to you in a calendar invite, coming from events@wideorbit.com. Maison de la Luz is within walking distance of the French Quarter and many amazing restaurants, bars, and historic sites.
Transportation – How will we get around town?
We recommend taking a taxi, Uber, or Lyft from the airport to Maison de la Luz. Maison de la Luz is central to many of the activities that will be taking place during our stay. Some activities will be within walking distance and WideOrbit will provide transportation for others.
Itinerary
Below is a high-level literary for the weekend. As we get closer to the event, we'll share individualized agendas with each of you via email.
Sunday, February 19: Welcome
Monday, February 20: Parade Day – Krewe of Orpheus
Note: Float positions have not yet been determined, so times may fluctuate slightly.
12:30 PM: Depart as a group from the hotel lobby for Krewe of Orpheus

Upon arrival at the parade formation area, we'll change into our costumes.
Lunch, games, and fun until our float is ready to move.
Dinner will also be served during the festivities.
9:00 – 10 PM: Parade ends. Transportation back to the hotel and a late-night snack will be provided.
Tuesday, February 21: Farewells
Please check back regularly, as we'll continue to update this page as details develop. We'll also be providing additional updates via email as Mardi Gras approaches. Feel free to reach out to events@wideorbit.com if you have any questions.
Laissez les bons temps rouler!